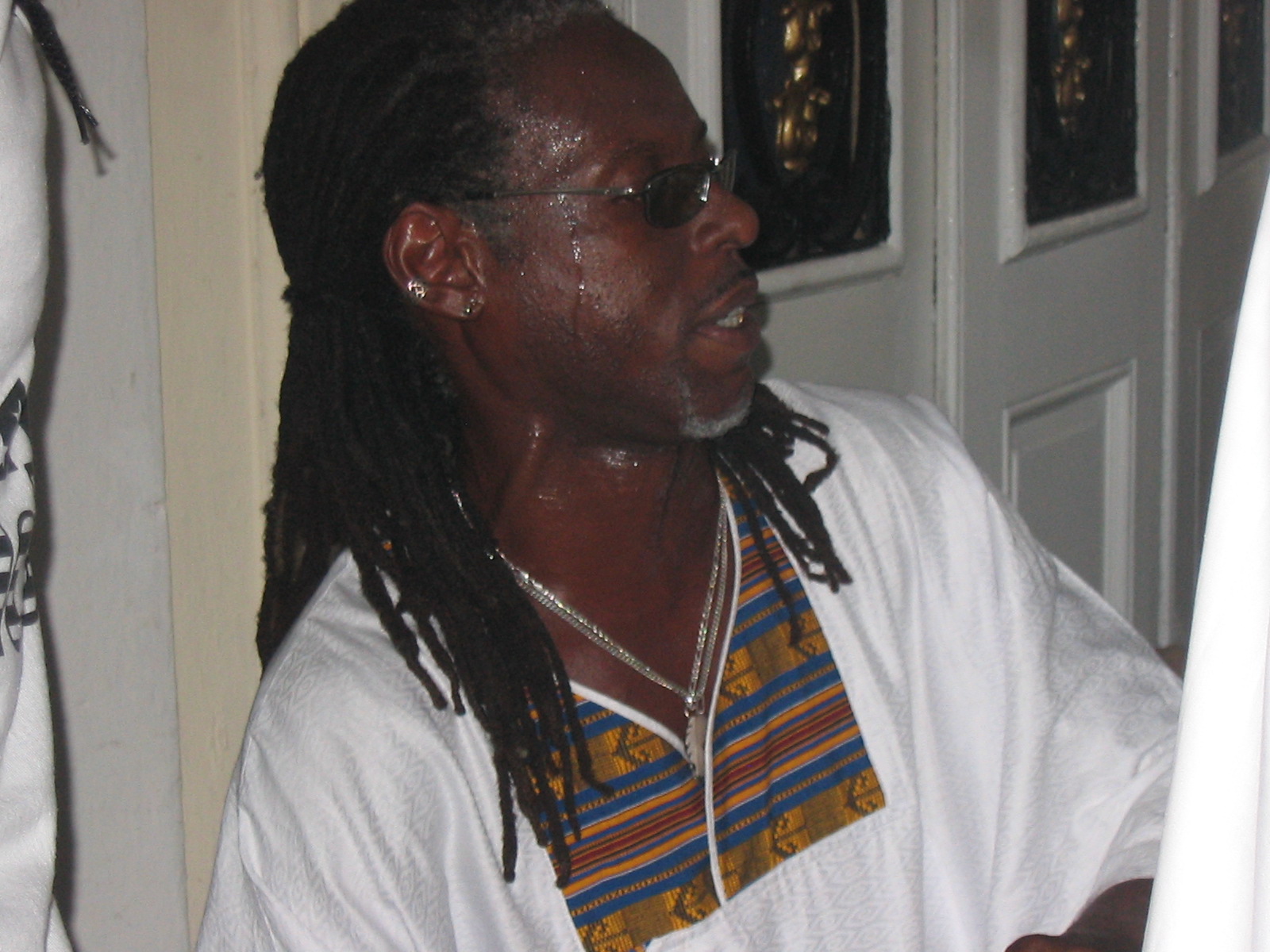 ALBERTO LIMONTA PEREZ  aka LIMON was born September 21st, 1966 in Havana, Cuba.
  He studied and taught music in Cuba and is professionally trained in: 
  Percussion: salsa, son, mozambique, timba, pilon, cha cha cha, merengue etc. 
  Dance: salsa, rueda de casino, son, danzon, cha cha cha etc.
  Afro Cuban Folklorica: Yoruba, Arara, bata drums percussion, dance and chants;
  Congo, Yuka, Makuta, conga percussion, dance and chants; 
  Afro Cuban Rumba: Guaguanco, Yambu, Columbia, conga and cahon percussion, dance and vocals.                                       
  LIMON, as he is called amongst other professionals, has spent his musical career of over 30 years performing as a folkloric and      popular dancer as well as establishing himself as a percussionist & vocalist. His areas of expertise are the percussion and dance  styles of rumba, afro-Cuban folkloric tradition and the popular styles of salsa.
 Highly regarded in Cuba, he was a percussionist, chorus and solo vocalist with the legendary Havana rumba group Clave y  Guaguanco".
 He is an experienced music director, composer and choreographer and has created and directed the groups
 TUKU MAMBILA (Cuba 2003), LOS DIABLITOS (UK), LIMON Y SENTIMIENTO LATINO/Latin Feeling (UK), CUBANEANDO (UK 2004-  2010), SABOR  AFROCUBANO (US 2010), AFRO FUNK ALL STARS (US 2011 to present).

  Limon also performs (and teaches) as a solo artist.

  His performing company name is LUCERO MUNDO/ ALBERTO LIMONTA PEREZ

  https://www.facebook.com/pages/Lucero-Mundo-Alberto-Limonta-Perez/149186938466869
History
Limon began is music career in 1981 as a folkloric and popular dancer in the Folkloric group Ikiri Abda, directed by Alejandro Vasallo, where after a year he began to play percussion with the folkloric bata drums and congas, shekere and guiro.
From 1984 he worked as a vocalist and conga percussionist with Steel Band Taino, directed by Orlando Tamoyo. This steel band featured the rhythms of reggae, calypso, son, salsa and soka and was a unique group of it's kind in Cuba.
In 1987-88 he worked as a percussionist, singer and dancer in the Folkloric groupAlafia Ire directed by Luis Chacon (Aspirina"). Also in 1987 he again worked with the folkloric group Ikiri Abda(directed by Alejandro Vasallo ) as a percussionist and vocalist.Alberto Limonta Pérez
In 1993 Limon, as a professional percussionist and vocalist, joined the Orquesta Afro Experimental (directed by Roberto Zesma) and in 1995 - La Comparza de la F.E.U.(Federacion Estudiantil Universitaria, directed by Oreste Vasallo, which won the first place for choreography and music and went to San Sebastian in Spain for the Carnaval de Invierno.
From 2000 Limon worked as a musical director with the folkloric group Otannibu. This was an important musical direction for him as he used his own musical creations for the shows with the general director Mayle Sanchez.
In 2000 and 2001 he visited Switzerland and Germany, where he worked as a percussionist and vocalist and taught Cuban percussion, casino salsa and rumba dance classes.
At the end of 2002 and beginning of 2003 he co-created the rumba group Tuku Mambila.
He worked as the musical director, percussionist, vocalist, dancer and choreographer, with the general director Inez M. Regi. In this group he also created and directed his own compositions of music and songs of traditional folklorica and rumbas with fusion and popular music.
In 2003 he joined the Conjunto Clave y Guanguanco (directed by Amado Dedeux), one of the leading rumba groups in Havana and unique in it's style of contemporary rumba in the whole of Cuba. With Clave he toured Europe and played at the UK Womad Festival 2003 as a percussionist,
singer and dancer.                                                                                                                                                                                                                                                                                                                                                  
In September 2004 Limon came to the UK. He lived in Brighton and performed and taught around the country.

                            HAVANA CUBA
   
             Performance History 1982 - 2004                                                              
                                   including
    
        Rumba Fusion Group Clave y Guaguanco                                               
     
 - in 1982 with Ikiri Abda he began to play percussion also with the folkloric bata drums    and congas, shekere and guiro;

- from 1984 with the group Steel Band      Taino at Carnaval Habanero;
 Recordings on the national radio and in  Havana;
 Special concerts for young and old  people. 
 Carnaval in Vera Cruz, Mexico (1986);  Festival International Gullana (1987);
- in 1987-88 with Alafia Ire in the show  called El Flamenco al Sol, which included  many excellent dancers and musicians of  Cuban folklorica and popular music;
- from 1987 with Ikiri Abda in Varadero;
- from 1993 with Orquesta Afro    Experimental various shows of popular  music, Alberto Limonta Pérezfloklorica and rumbas of Yoruba, Abakua, salsa, son,  merengues, boleros and ballads;
- in 1999 with La Comparza de la F.E.U. (Federacion Estudiantil Universitaria) at the    Carnaval de Invierno, San Sebastian in Spain;
- from 2000, as a musical director of the group Otannibu in the Havana beach areas of    Playas del Este; Brisas del Mar, Hotel la Terrazas, Villa Megano, Hotel Mar Azul; -  in 2000with the Omar Chocolate y Su Salsa Loca in Zurich;
 July/August 2003 with the Conjunto Clave y Guanguanco performing in many festivals  and concerts in Europe,  including The Womad Festival in Reading and others in France,  Belgium and Italy.
U.N.E.A.C (Union de Escritores y Artistas de Cuba)
Casas de la Musica in both Miramar and Central Havana, 
Delirio Habanero - Teatro National
Cafe Cantante - Teatro National
Hotel National - Salon 1930 
Diablo tun tun - Miramar
Encuentro entre dos culturas South Africa and Cuba
All Festivals of Rumba
Carnaval de Verano
Callehon de Hamel
Rumbas in Matanzas as invited by Los Munequitos de Matanzas and others
Rumba workshops with foreign visitors such as Key 2 Cuba from England
Limon UNEAC, Havana 2004
                              In the UK 2004 - 2010
  Limon was living, performing and teaching in Brighton from    2004-2010. Also performing in London and the Southern UK. 

 He has taught and played with many London and Brighton musicians, including Robin Jones Jazz group at the Jazz Café, London.  Laurence Jones and BJAS at the Lion & Lobster Pub, Brighton. Bacalao at the Komedia Club, Brighton where he performed  Afro-  Cuban Rumba and with his group Sentimiento Latino. Viento y Marea latin/salsa group at the Casablanca Club, Brighton. Los  Diablitos at the Sanctuary Cafe, Hove. Latin Vibes at the Freemason's Pub, Hove. Tres Naciones/Three Nations at the Babylon  Lounge and as a solo performer. Felix & Camina African Cuban Day, Brighton Black History Month. The Latin Sound at The Floridita  Club,Soho, London.
Also many festivals & concerts in the UK with AfroSon, Cubaneando, Limon y Sentimiento Latino and The Latin Sound big band.
 Limon was the founder, musical director and percussionist with Latin Jazz group Limon y Sentimiento Latino/Latin Feeling. A  quintet comprising of Limon - percussion/congas/bata/vocals. Luke Rattenbury/guitar. Andre Fry/bass. 
 Lucy Taylor/flute/vocals. Dan Rehahn/Trombone/vocals.
 This is authentic Afro-Cuban Latin Jazz based on the Cuban Clave with many original compositions  by Limon. The music is danceable Jazz.  The group was based in Brighton, UK.

 There was also Limon's Sentimiento Latino Trio whose members were Luke Rattenbury/guitar Andre Fry/bass and Limon/  percussion/vocals. They played regularly at the Sidewinder, Brunswick and Globe Pubs and other venues in Brighton. 

 He also created and played percussion with AFROSON andCUBANEANDO TRIO with Marietta Vuelens both all Cuban groups.

SENTIMIENTO LATINO 2005

 
                                    2010 TO PRESENT  
LIMON NOW LIVES TEACHES AND PERFORMS IN FREDERICKSBURG VIRGINIA AND THE WASHINGTON DC AREA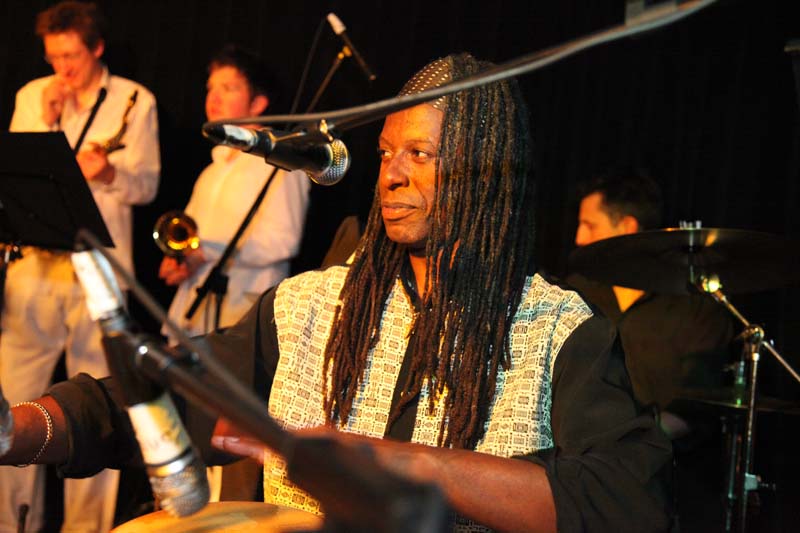 DeLatin Sound 

AfroSon 
(Cuban sextet- percussion,bass,tres guitar,and vocals- 
fusion of Cuban Rumba&Son)
Cubaneando
Afro-Cuban Jazz 
(Alberto Limonta Perez percussion vocals,
Marietta Vuelens piano/vocals, 
Yoel Padron bass/vocals)
Performance history:
- Limon is founder, musical director and conga player with LIMON Y SENTIMIENTO LATINO/Latin Feeling.Danceable Latin Jazz great for salsa dancers and jazz lovers.
-Co- founder of CUBANEANDO all Cuban Trio, with Marietta Veulens and Yoel Padron.
-Percussionist/Conga player with DeLatinSound -large latin dance band 
http://www.mycongaplace.com/
my/home/video_viewer.php?idvideo=3533&lingua=E
Limon with DeLatin Sound, 2010
Limon at Pontins UK,
November 2004
Limon at the Lion & Lobster Pub with the Brighton Jazz All Stars, 2005
Limon Callehon de Hamel, Havana, 2004
    Limon with Clave y Guaguanco, Festival de la Rumba,
Havana, August 2004
      Limon Rumba workshop, Brighton,UK 2005