- LUCERO - Star that Lights
- MUNDO - The World
This is our company name, co-created and directed by Alberto Limonta Perez and Inez Limonta Regi.
We have created Lucero Mundo to encompass our Groups, Performances, Workshops and Teaching of dance and percussion classes.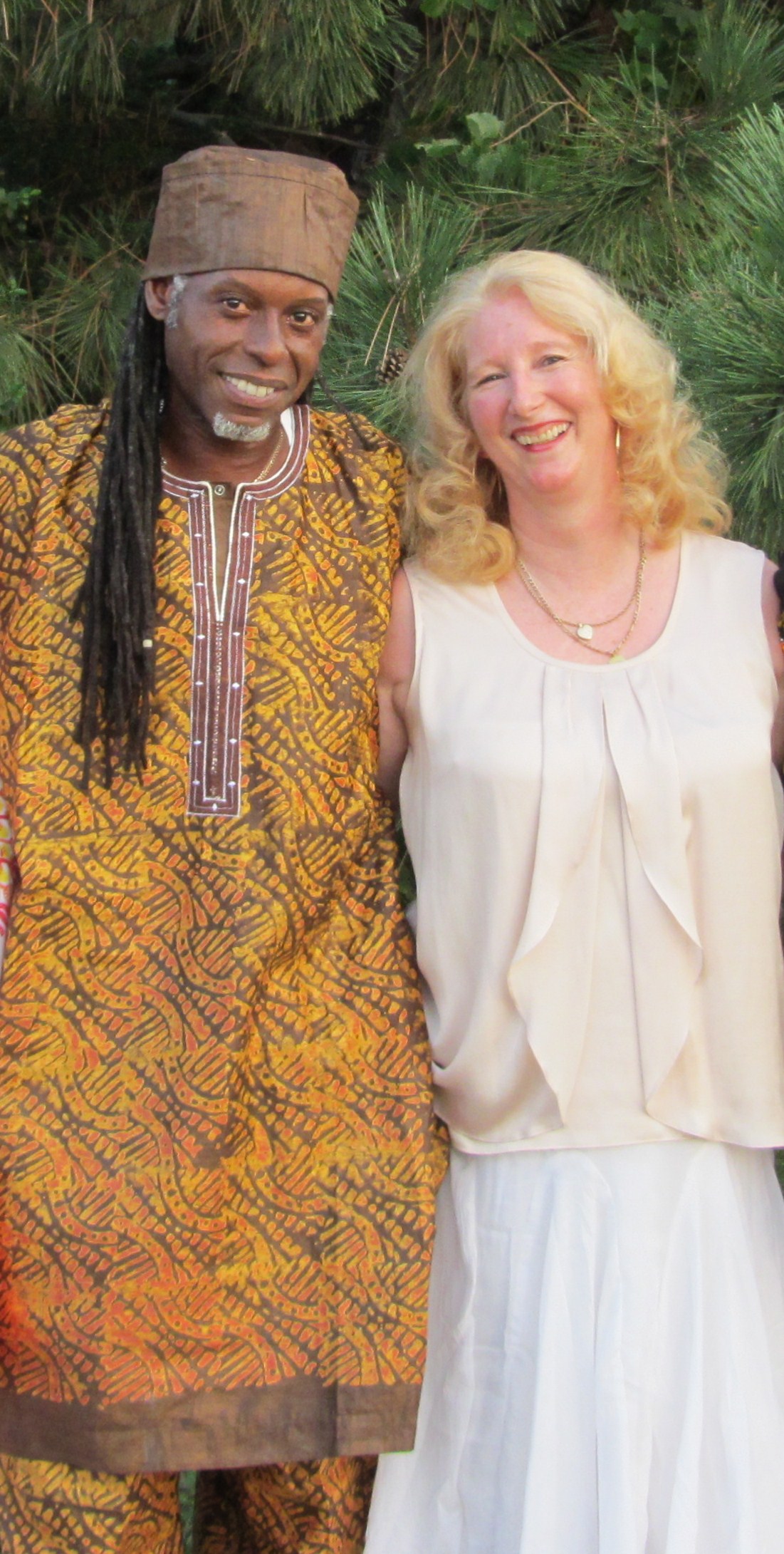 The journey from Havana, Cuba to Fredericksburg is about 930 miles. If you take a detour to Brighton, England it is more like 8400 miles. That is the route that led Alberto Limonta Perez to town. Alberto Limonta Perez, aka "Limon", is a musician, vocalist and dancer who shares his Afro-Cuban culture through his music, and as a teacher of Cuban percussion and dance. With his wife, Inez, he lives in their home on Lafayette Boulevard which serves as a rehearsal space and dance studio.
Limon was born in Cuba and learned how to play the traditional Bata drums by listening to local musicians. "Almost 90 percent of my neighborhood were musicians, mostly percussionists", he said. "I started as a dancer, but the percussionists would practice every day and I would sit down and listen to them. One day one of the musicians wasn't there so I asked if I could play with them. At first they said no, because I was only a dancer; but then they gave me a chance. After hearing me play the bata drums, they asked where I learned. I told them I just listened to them every day". Limon learned quickly and soon was performing with folkloric groups. Later he added conga drums to his percussion skills. "I learned by ear. I never had a teacher. Then I went to a music school. There I learned percussion and solfeo(music scales etc). My last group was one of the most famous folkloric groups in Cuba." That group was the legendary Clave Y Guaguancó, who are the most famous fusion rumba folkloric group in Havana.


 It was in Havana that Limon met his wife Inez who is a native of England. When her father passed away they moved across the Atlantic to the coastal city Brighton to look after her mother. In England Limon founded several groups, adding his latin percussion to local jazz musicians who had previously never played his style. "Some of those musicians went on to become well known latin musicians in the UK" said Inez.Seven years later, Limon and Inez moved to Fredericksburg to be near Inez's daughter and grandson who live in the area. His current duo is with Cesar Orozco also from Cuba. My main thing is Afro-Cuban Latin jazzand Cuban Rumba but I like to play music from around the world. It's like travelling to Cuba, Brazil, Africa and America. I'm very open with my music. "The musicians here know funk and R&B etc. I know there are so many people who like to hear something different. so for a change I play African rhythms, Brazilian rhythms. I even play two Beatles songs, Hey Jude and Girl in my style. I want to do some salsa with swing. When my mind is happy, music comes."

 Limon teaches his musicians his music by ear. "When I compose I don't write music, the music comes from the heart. I teach that after I give the melody, they are free to do whatever they want. The only thing is you have to follow the melody. For example I will sing the bass line with syncopation then they learn it. And I sing the piano and guitar parts, then they follow. Then everything comes together, and when they get comfy then they add their own flavor and it's tasty."I asked Limon about the African roots of his music. "I was born in Cuba, but we have the traditions from Africa. When Spain conquered Cuba, they brought Africans from the Congo, Nigeria and Senegal. We saved this kind of culture in Cuba, the ancestral music, ceremonies and religions. So now we incorporate all these things in our modern music. We created latin jazz with all this from years ago. I practice this kind of religion. My family is descended from Congo and Nigeria. Everything goes together, music, language, dance and food. I still love it."

Limon performs regularly in the DC area where there is a larger demand for Afro-Cuban music. "I'd like to do more here" he said. "I travel to DC a lot. I want to show people here what I've got, we teach salsa dancing. I want to share my percussion, teach percussion here." Limon and Inez have a regular Sunday Cuban salsa dancing class in their home and Limon is teaching private percussion lessons. He has received a warm reception from crowds at Market Square and Hurcamp park, showing that good music has no national or cultural boundaries. As Limon said, "When I see people dancing I know my music is not boring; my music is right."
CLASSES AND WORKSHOPS

Cuban Style: Casino/Salsa, Timba, Son, Pilon, Mambo, Mozambique, Chachacha, Guaracha
Every Sunday at 700 Lafayette Blvd. Call to reserve space.
Rumba/Folklorica: Guanguanco, Yambu, Columbia;
Limon teaches with emphasis on body and foot movements incorporating all styles of the
dances above all levels begining to advanced.
Private Classes available. One hour- $50,
Cuban Percussion Begining to Advanced Levels
Clave & Congas: Salsa, Rumba
Bata: Yoruba, Arara
Conga: Yuka, Congo, Makuta, Bembe and Guiro/Shekere
Cahon: Vocals (Cantos y Choros)
Private Classes available by reservation - $50 per hour, $80 for two hours.

Limon is available to perform, teach & DJ for privateparties/functions,weddings, birthdays, etc. prices negociable.

For info about classes and performances,
please contact Inez 1 540 376 1690
inez.manuela@hotmail.com

www.limon-afrocuba.com
 
Limon teaches workshops in Afro-Cuban percussion and rhythm for children as well as adults.
He performs originally choreographed dance performances for private functions and
is available to DJ with his extensive Latin/World/African/R&B music collection.

Contact Inez for Info 1 540 376 1690

Limon teaches Cuban salsa classes and workshops and Afro-Cuban folklorica & rumba in his home studio at 700 Lafayette Blvd. Fredericksburg as well as percussion. Both private and group classes.

Limon´s long term project and dream is


to create authentic cuban rumba here in the US
Alberto aka "Limon" with Caspar at Norwich UK, Afro-Cuban Drum & Dance Workshop
Norwich UK Workshop flyer